Karachi Electric (K Electric) calls itself a just body that provides electricity to everyone. That may be true but it also rips off people of their hard earned money.
This is how it do that.

K Electric Madras Society IBT Has No Complaint Department!
Is K Electric a fraud? It doesn't have a complaint department. I had a issue and went to K Electric office at Madras Society. They call it the IBCs or Integrated Business Centers. But the staff did not let me submit my complaint. Instead said 'this is not even a complaint'.
So, where should I go now? I decided to ask about it through social media. A digital brand named creative chaos is handling their social media as per my knowledge. But the online team will again direct you to visit a KE IBT.
What is this? Why is Karachi Electric (KElectric) ripping innocent people of Karachi.

How K Electric Helpline Misguides you? The Duplicate Bill Fraud
Here is how the discussion with K Electric social media account about my duplicate bill complaint went. Sadly, they didn't help me.
K Electric Duplicate Bill Electricity Complaint: What happened with me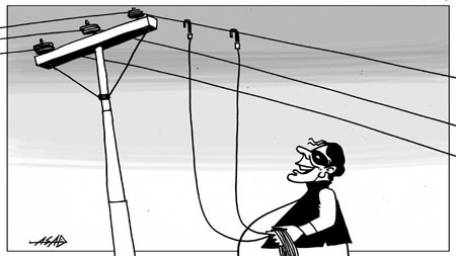 K Electric provides Kunda to new societies that don't have a metered connection.
I recently shifted to a society on highway Karachi. In this society KE used to provide electricity through Kunda (direct wired connection) because meters lines were not available to all houses. the previous owner had a kunda on his name. When I shifted, KE came and took off the Kunda. When I talked to the team (that came to my house) they told me to go to their office near Madras Society and get a meter. But as I had purchased the house a few days ago I had no sale deed (which is needed for meter connection) in the mean time I was allowed to take another (second) kunda connection. So now I had a kunda connection on my name. But the team that cut the kunda connection never turned it off. So after a month I had two k electric tariff bills coming to my house.
K Electric
new connection:
One from previous owner and one issued on my name. Both were of Kundas. When I went to the KE office again. They said they will not issue the NOC (for a metered connection - as my sale deed had arrived) unless I pay the bill in full. Note: I shifted in october. The double kunda (both bills) came in nov, dec and jan. So I payed all of them to get an NOC for a metered connection. Now I have meter installed and would like to complain this issue. But today when I went to Madras society for complaint. THey said they dont have a complaint section for this kind of query.
Here is a K electric bill calculation:
1st Kunda (that was nor turned off by your team) = 9000 rs * 3months
2nd (kunda issued on my name = 9000 * 3months)
In the end I would say K Electric Helpline is just for getting international investments and share hikes. They won't help you unless you are a VIP personality.
I end up paying 50,000 rupees more for the electricity meter and bill because of K Electric staff misguidance and inempt and corrupt behavior.
Besides, the emotional dilemma my aging mother faced because of K Electric Corruption is an immeasurable cost. Therefore, I have just one word for you KE. Shame. Shame on your misconduct K Electric helpline. Shame on making people pay for additional dues. Shame on your for making people pay duplicate bills. Shame on you for not making them submit complaints and looting them of their hard earned money.
Contact me to know more about K Electric Duplicate Bill Complaint:
Note: Contact me on pointraiserofficial(at)gmail.com if you would like additional details about why K Electric is a fraud company and by bill details, complaint number, meter number and all.
I don't trust adding them here - though it is against journalistic ethics - but then again Pakistani government companies don't keep ethics in front then they rip us off!